Hot Chicks with Sticks -- August 21, 2004

The seventh event of the season was held at the Highlands Golf Course and the day could not have been nicer. Our tournament coordinators (Cheryl Ober and Carol Finn)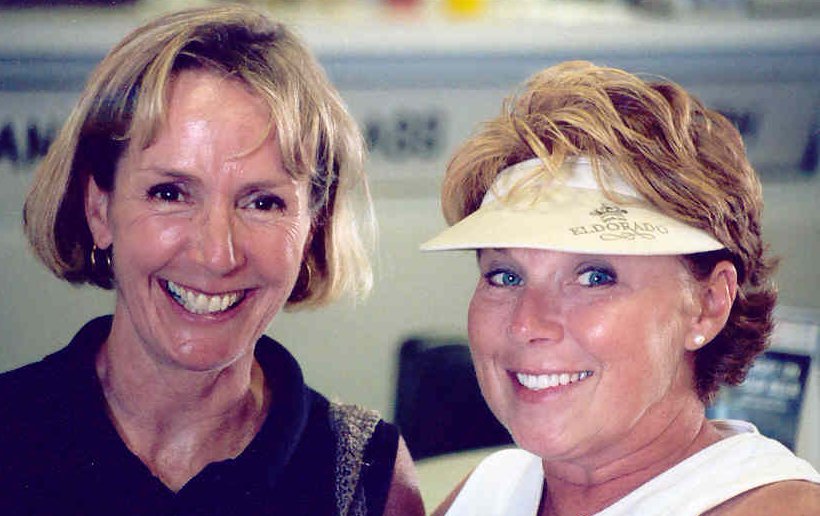 managed to get a modified shotgun start for us again. Way to go gals. I must admit it is very nice to be coming off the course with everyone else and be able to chat with ladies after an enjoyable round of golf....yes...an enjoyable round of golf.

It does make getting pictures of a variety of the club members on the course difficult but as we say on the course, "you got to deal with it kiddo".




I think first and foremost, recognition of a "Hole in One" by Betty Deleeuw (pictured to the right) is in order.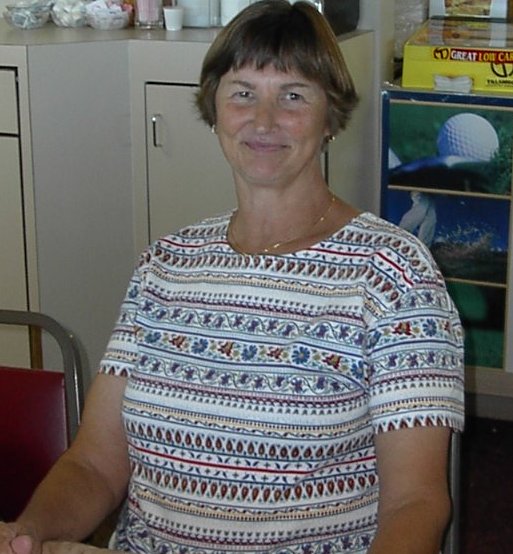 The ball disappeared from sight on Hole #12 after Betty bashed it gently with a pitching wedge. Excuse me, is it possible to bash something 'gently'? Let me rephrase, Betty merely convinced her ball to go spelunking.

Congrats to you Betty for a great shot!








Her group of Arlene Stubblefield (partner), Tammy Poe, and Roma Wieckhorst all enjoyed the day, company and excellent golf.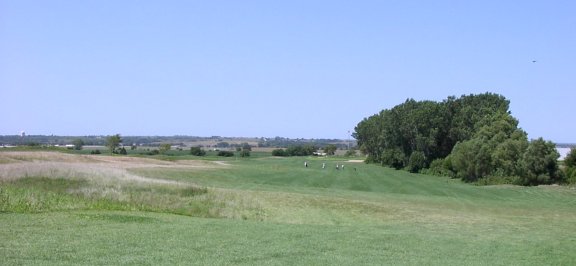 A view of the 12th fairway easily depicts a nice walk to the green this lovely morning. But ... don't look now....trouble lurks .... can you see it?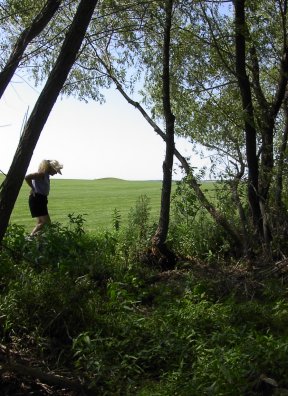 We see the unsuspecting Kristi Gerry peering into the hazard. Watch out ladies (Kristy Gerry, Deb Smith and Gloria Brockley), don't get too close to the edge....or else... you may....disappear.....
















Oh no...it is starting to happen....we are loosing a member of our team....she is fading fast...anyone got a GPS unit?

Does she know there are critters in there? Brave sole! It is always good to have a partner who will go to the ends of the earth....ugh.....golf course for you.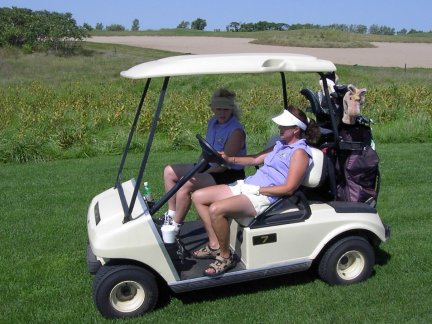 Kristy informs her partner, Deb, that if she EVER does that to her, she is NOT, repeat NOT going to go in that place ever again.





Come on, where is the loyalty??? The sacrifices made for our golf partners never ceases to amaze me.



OK, on to more enjoyable issues like our golf swings. Kristi illustrates a very nice extension and follow through to a balanced finish here on Hole #6. I envy 'balance', don't you? Practice, practice, and more practice and we all can achieve 'BALANCE'.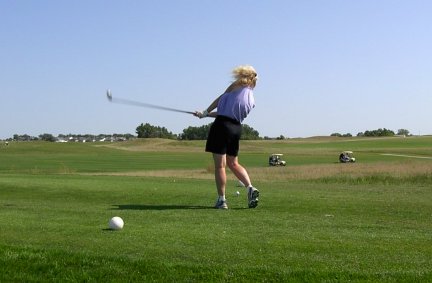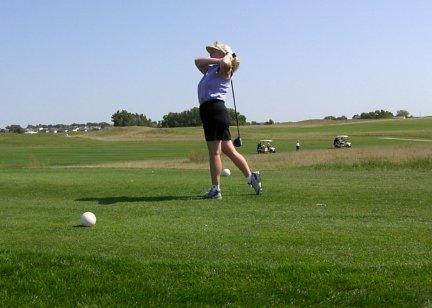 After a long day of golf, I saw an act of kindness that filled my heart with pride. One gal, heading back to the club house for a cool one, decided to offer a ride to the club house to another group. Not just one or two ladies, but FOUR. Of course, all accepted. Then the fun began to try and find a comfortable place for all to ride. The generosity these fellow golfers have towards one another,....well....makes you wonder....ARE THEY THINKING?...YOU CAN'T PUT SIX ON ONE OF THESE CART?... OH JOY...NEVER SAY NEVER!! There is nothing golfers like more than to accept a challenge and then prove you were wrong. ha ha I stand corrected.
(

Faces were disguised to protect the identities of these nice ladies. But the bottom line is these carts are amazingly tough, ..... for a few yards anyway. Then safety won out over valor and every one made it back safely.

)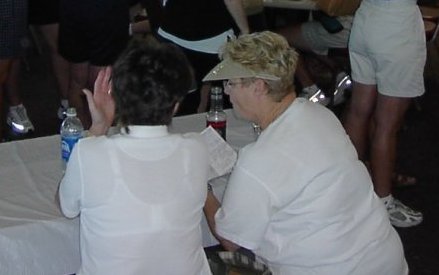 Here we have a team going over their day, hole by hole,.....
"NEXT YEAR, partner, NEXT YEAR....."

"I think I lost my focus..."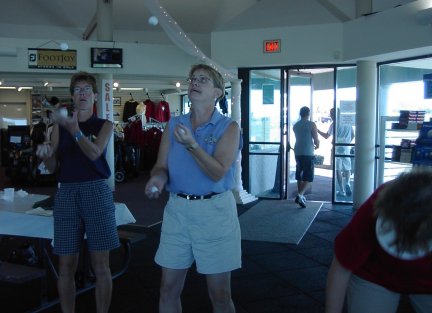 WOW, these ladies have other specialties besides golf. Gale Hadenfeldt, Sherri Nelson, and Michelle Hinton (come back Michelle) demonstrate their juggling abilities. Opps, Michelle was the first to blink or was it my flash...sorry.



Congrats to all the winners!!
First Flight
1st place (tie) Deb Essex & Lyla Ott
1st place (tie) Jan Crouch & Gretchen Livingston

Second Flight
1st place Michelle Hinton & Jenny Keitges

Third Flight
1st place Dee Carmean & Dee Ferguson

Individual Game Winners
Best Ball Michelle Hinton & Jenny Keitges
Scramble Deb Oman & Karen Flowers
Alternate Shot Deb Essex & Lyla Ott