Hot Chicks with Sticks Tournament -- August 6, 2005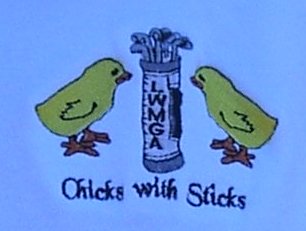 Wow, what a lovely day for a golf tournament. The morning welcomed 28 teams for the ever challenging tournament "Hot Chicks with Sticks". This tournament is one of the most enjoyable (some would say) in that it combines three formats over an 18 hole event. Six holes of Best Ball, six holes of Scramble, and six holes of Alternate Shot. This year the tournament was held at Holmes golf course where John Craw (Pro) and Mark (assistant Pro) get us started quickly with a shotgun start.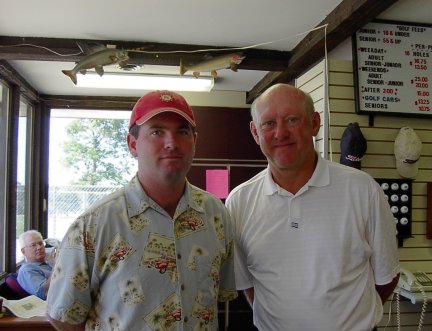 Of course, there is always some chick that throws a wrench in the works and this year it was this gal who found it necessary to lounge on the first tee. However, she didn't bother the ladies too much as they played through, so no harm no fowl.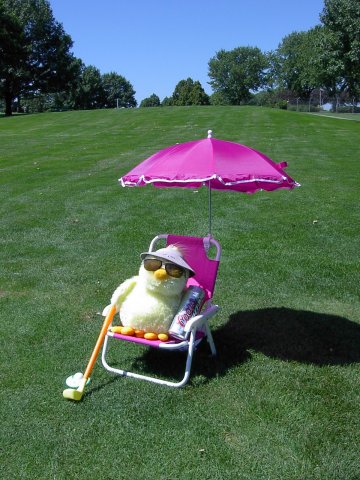 Her cousin was sitting in the fairway to record the shot that got closest. Talk about watching for the sky to fall.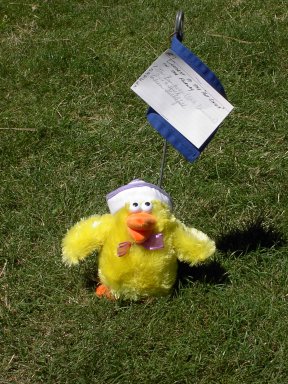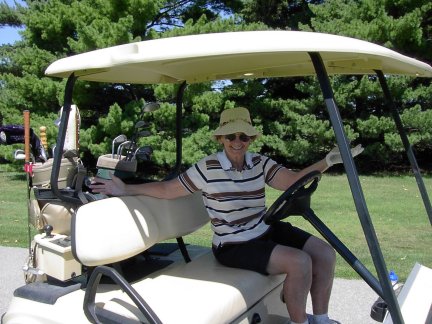 As I moved around the golf course checking out the action, Jean Weisel mentioned she had lost her partner. But it wasn't long before I saw she found Dee Lowe again. This is a good thing because Alternate shot is hard enough, let alone trying to tackling it without your Alternate. Welcome back Dee.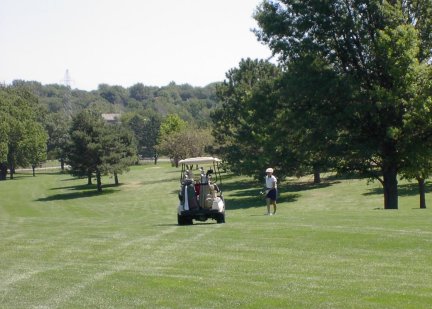 So, off I went in search for more excitement. It didn't take long before I found some. I caught the chip in by Cheryl Ober on Hole 14. Becky Williams (her playing partner) came to give her a real warm "Ada Girl" and "THANKS for the birdie, partner" and "Boy that helps the score card some". And maybe a few others but all in all a great shot at the right time.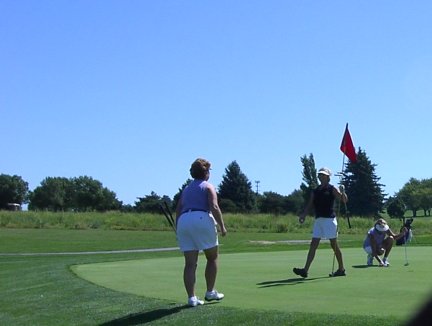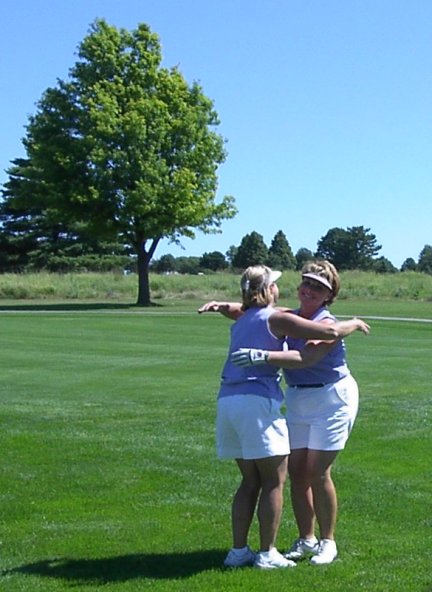 I then moved on and caught my second chip-in of the day. Kris Humphrey sank a nice one on Hole 17 for a sweet birdie. Are these suppose to happen when your playing in the Hot CHICKS with Sticks tournament? All I know is Marla Shaw had a great big smile for her partner. And posed for a team photo to celebrate while the other team finished out the hole.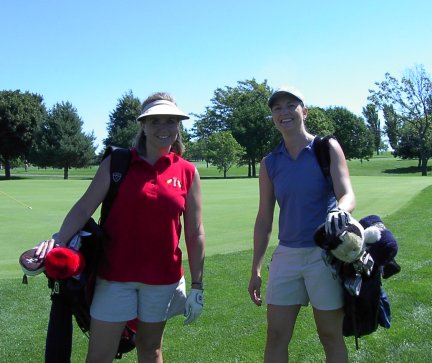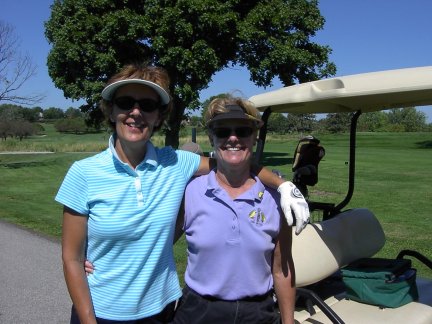 Bev Kipper and Mary Wellman teamed up for the day and really had a great time.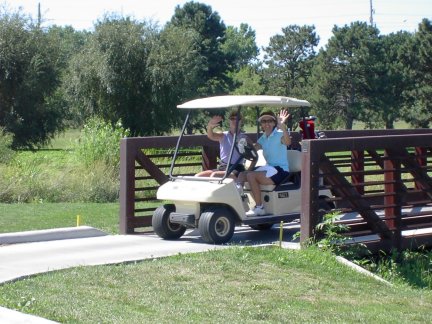 Good driving Mary. If the golf is slow, there is always the challenge of driving a golf cart to keep your attention on the course.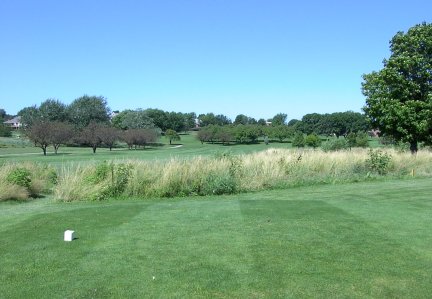 But if your attention should wander you better get it back quick because at Holmes every once in awhile you meet up with a hole that requires all your attention. Here is the view on Hole 15. Keep your cool and swing true ladies!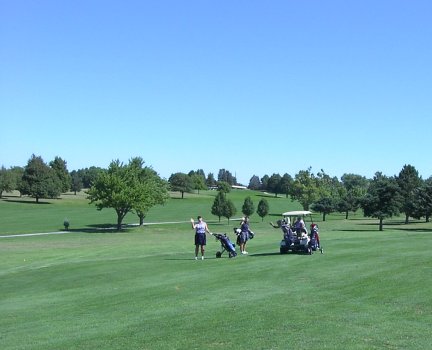 It wasn't long before I was met with a welcoming from another group of players. Chris Lange (Pres-Elect), Gale Hadenfeldt, Cherl Ogden, and Judy Quade-Anderson all said "Howdy".



I then caught up with Jo Donohoe and Mary Danley. Nice tee shot Mary. Your both so intent on watching the outcome that it must have been FANTASTIC. Of course, not much could dampen their spirits because on the previous hole, I got to witness my third chip-in of the day. Way to go Mary!!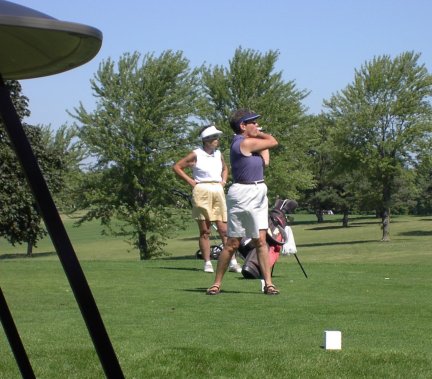 I think it goes without saying but I'm going to say it anyway,


"THESE GALS CAN PLAY".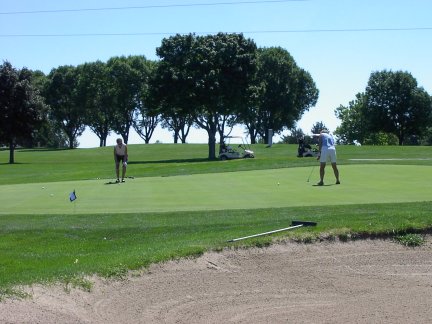 Kay Fox shows great putting form for her team on Hole #3. Jan Crouch was quietly watching just out of view.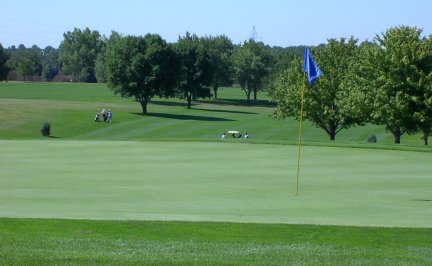 Holmes does have a few greens that are pretty elevated which requires more club than posted yardage would suggest. So many challenges await you at Holmes, so bring your "A" game.


Unfortunately I found this tree which appears to be a little worse for wear. It is just off the mens tee box.....ah....do you suppose.....it is in this condition....because.....well .....because....the men may be ........ ah .......off target......well....once in a while with their tee shots....????? Of course not.

right tee hee

Sorry guys, the chicken made me do it. (:>)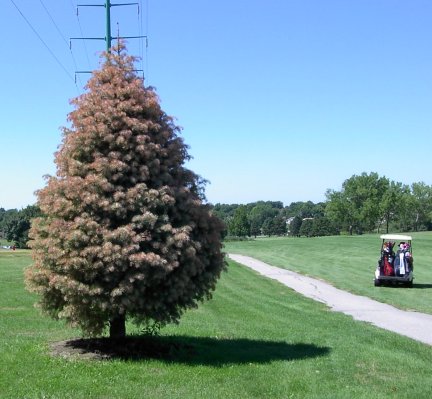 So, off I went in search of more great moments. I found this spot that is really nice to look at but I certainly wouldn't want to be in that mess. How about you?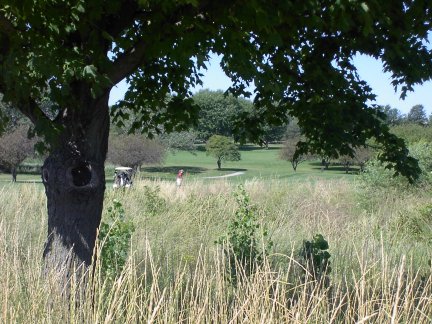 But views like this are all around you on the course. It makes the morning pass quickly and makes you glad to be alive. Well, if your not IN this view that is.





Now, for what you all have been wondering....WHO WON!!!
1st Flight
1.  Kelli Kramer/Gwen Dalton (75)
2.  Kris Humphrey/Marla Shaw (76)
3.  Susan Holland/Sherril Kilpatrick (78)








Order from left to right:
Gwen Dalton and Kelli Kramer.....congrats ladies, well done.
Jan McNally and Joyce McClure.....the lucky ladies who had the pleasure of playing with Gwen and Kelli.  








 
2nd Flight
1.  Jane Shaw/Connie Hoffman (80)
2.   Shelly Herrod/Carla Becker (86)
3.  Carol Finn/Jean Brennfoerder (87)






 Way to go, Jane and Connie!










3rd Flight

1.  Callen Frenzel /Cathy Day (Tie...88)  (Pictured to the left)
1.  Deb Holland/Linda Perry (Tie...88)   
3.  Carol Bottum/Shirley Anderson (90)
 






Winners of Individual Events

Best Ball:  Deb Holland/Linda Perry (20)
Scramble:  Susan Holland/Sherril Kilpatrick (24)
Alternate Shot:  Kelli Kramer/Gwen Dalton (26)
     
Best Ball Winners Alternate Shot Winners Scramble Winners