LWMGA Fall Brunch -- October 15, 2005

It has finally come to pass.....the final official event of the LWMGA golf organization for 2005....the Fall Brunch. This year we enjoyed the morning at Valentino's on 70th and VanDorn with all those gals who wanted to have one more excuse to see their golfing friends before the snow flys. And yes, I was also there. The Fall Brunch is the last official job for the outgoing president for 2005, Jane Shaw. I know everyone in the organization joins me in saying "THANK YOU, JANE" for another great year.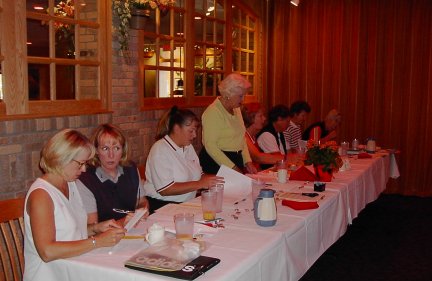 The fall brunch is a time for us to take care of the organizational business and the board always keeps us up to date with changes they feel will benefit the organization as a whole. They work tirelessly all year to make sure we are kept up to date with the Golfabout (Thank you, Susan Holland), Rules and Handicap Chair (Thank you, Gloria Brockley), the organizations money (Thank you, Sherry Hutchison), Event Chairs (Thank you, Carol Finn and Becky Williams), Secretary (Thank you, Tammy Poe), President-elect (Thank you, Chris Lange) and President (Jane Shaw).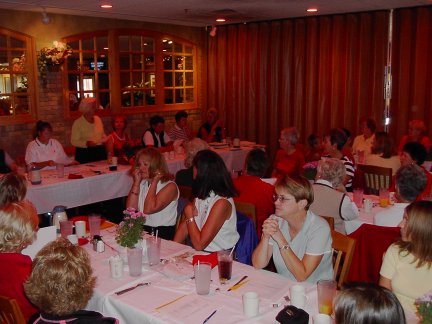 As the ladies who attended enjoyed their brunch the board continued to take care of business.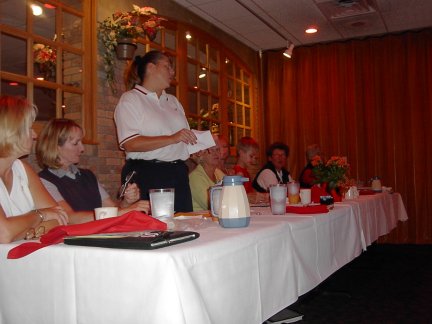 Jane of course had the honor to sing praises to the Club Champion, Sherry Nelson. Good job Sherry.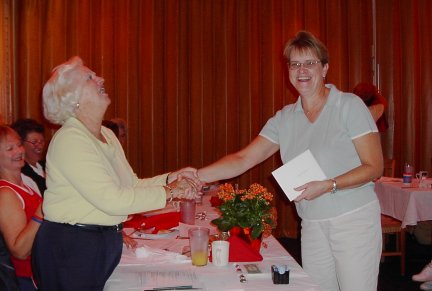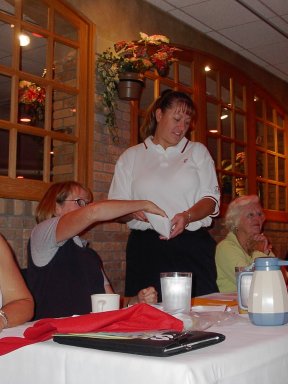 Chris took care of the birdies and chipin awards,
with a lucky lady getting the coveted Eagle pin (Jan Crouch). I guess I shouldn't use the term "lucky" here, Jan is well overdue for this award. Let's see the next is an "albatross"?????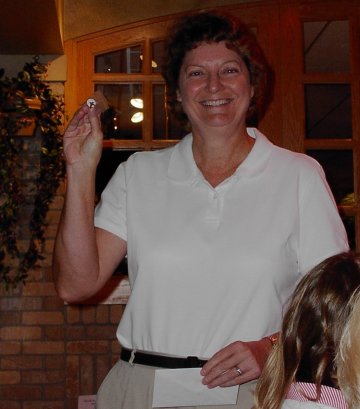 Ladies who organized play at each of the morning and evening playday leagues awarded the money to the Ringer Board winners. Congratulations to all those who were lucky enough to have improved this year. Way to go and keep it up.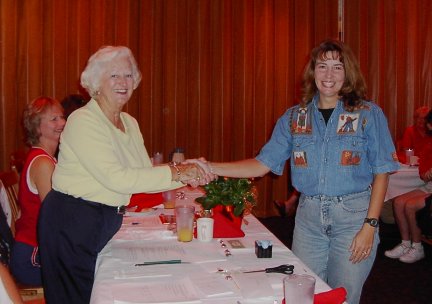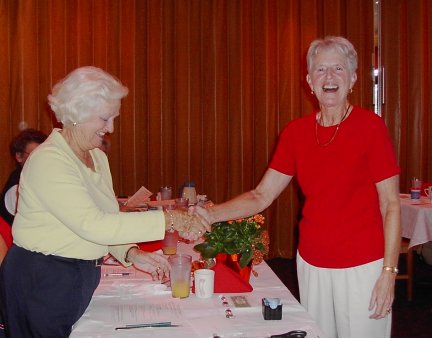 I can not forget to recognize the other two big winners in the league's Club Championship, Jenny Keitges (Low Net Champion) and Jean Peck (Senior Low Net Champion). And it is really Jean in this photo.....or is it????? tee hee

Unfortunately, we all had to say goodbye for another LWMGA season, but some went out to the Holmes Golf Course and enjoyed one last round of golf on a fabulous fall day. I for one can not wait to see all my friends next year at the Spring Brunch so have a great winter.

Enjoy these last shots of fall golf in Nebraska....who said we don't have scenery here???